I began taking lessons on the piano at the age of 5 years. It did not take long to realize that I truly had a love for the piano. My parents never had to tell me to practice. In fact they had to tell me to stop and do other things! I also began playing the trumpet in the 5th grade and continued both the piano and the trumpet through the 12th grade. I received my degree in Music at Brigham Young University in 1986. I went on to receive certification at the American Institute of Piano Technology in 1995.  I became an Associate member of the Piano Technicians Guild of America in 1994. I have since been tuning, repairing & rebuilding pianos and teaching piano lessons. The piano has been my hobby, my career and my love. It is my goal to share this love and pass it on to my students, clients and all whom I come in contact with.
ABOUT MY FAMILY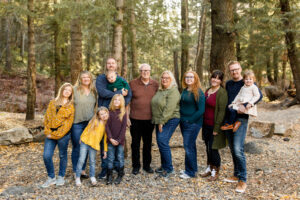 In 1980 I married Coreen who I met while attending College. She retired as a second grade teacher in California. I have 3 children (all 3, of course, took piano lessons from me). I lived in California 50 years and have now moved to Utah to be near my children and grand children.
William served a mission in Haiti. He and his wife Michelle live in Utah with their daughter. They love being outdoors and enjoy artistic hobbies.
Raelene served a mission in England. Her and her husband Jared live in Utah with their 3 daughters and son.
Christine served a mission in Alberta Canada. She graduated from Utah Valley University with a degree in Accounting.  She currently lives in Utah.